The purpose of Social Dialogue is to allow students to engage their community by discussing social issues in a public forum.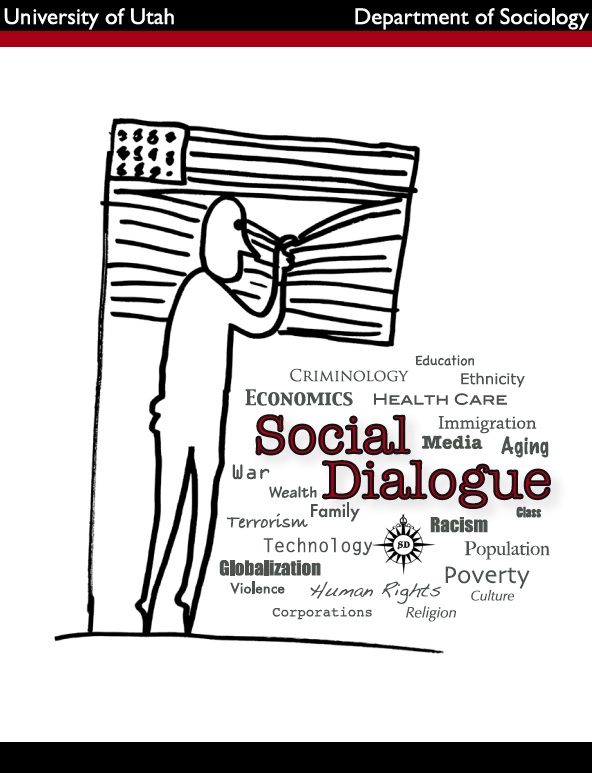 Announcements
Sociology Department Awards and Accomplishments

Congratulations!

The sociology department at the University of Utah is proud to announce several impressive awards won by faculty and students this year.

Posted: 2010-06-09
More...

Calling all Sociology Department Alumni

Where are you now? What are you doing? We would love to hear from you!
Posted: 2010-06-09
More...
Vol 3, No 1 (2010): Fall 2010
Table of Contents
Letter from the Editor
Letter from the Editor

Dan Poole
Articles
Utah: Pornography Capital of America?

Vinny Barborka
Globalization, Poverty, and Conflict

Jordan Menzel
Intimate Partner Violence in Context

Danielle Wilson
Quod Me Nutri Me Destruit: That Which Nourishes Me Also Destroys Me

Melody Sain
Responses
Viewing Partner Violence as a Human Problem and Not Only a Gender Problem

Peter Fawson
Researching Domestic Violence: The Great Debate on Methods, Measures, and Outcome

Carrie Sillito