Codification of Table Manners at the Eucharist in Early Stuart England: Reworking the Reformation in the English Church
Abstract
Using official church documents from the Early Stuart era, broadsides, and pamphlets this article demonstrates how the church set official codes for worship and how the laity responded to that code. Eucharistic table manners and how lay persons behaved during Divine Service created complex multi-tiered relationships with the Church of England, its clergy and fellow lay persons. This article examines how the codification of Eucharistic table manners impacted the lives of lay persons in Early Stuart England. Further, this article argues that strict religious code was placed on the laity by a complex church administration. Laudism shifted how people worshiped in England, and for some, it made religion more accessible, but for others less so as it titled them notorious or outsider.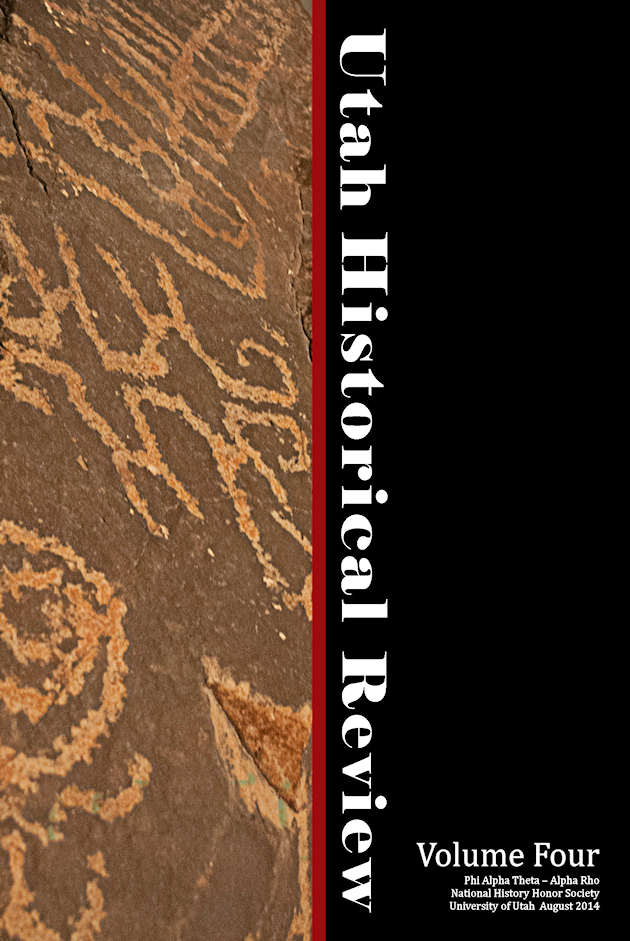 How to Cite
. Codification of Table Manners at the Eucharist in Early Stuart England: Reworking the Reformation in the English Church.
Utah Historical Review
, [S.l.], v. 4, p. 125–132, july 2014. ISSN 2374-1570. Available at: <
https://epubs.utah.edu/index.php/historia/article/view/1174
>. Date accessed: 28 may 2023.
Keywords
Religon, Lords Supper, Laudism, Eucharist
This Non-Exclusive License Agreement for Authors ("Agreement")
is entered into between the undersigned "Author" and Phi Alpha Theta - Alpha Rho (Utah, USA) ("Licensee"),
for the purpose of use and distribution of Author's academic works ("Works") as part of the chapter's history journal ("Journal").
AUTHOR
1. Author warrants that Author is the owner of all Works submitted to the Licensee.  Author hereby warrants and represents that the right granted herein are free of any claims, demands, exclusive licenses, or other encumbrances.  Author warrants that Author has the sole and exclusive right to license, administer and control all uses, in whole or in part.
2. Author warrants and represents that Author has the exclusive legal right and authority to enter into this agreement and hereby grants the Licensee the right to reproduce, distribute, sell and otherwise use Author's Works as part of Journal regardless of media of distribution.
3.  Author agrees that Author is responsible for the acts and costs of registering and defending Author's copyrights and trademarks for all Works submitted to the Licensee.  At no time shall the production, representation, and/or distribution of the Author's Works by the Licensee constitute an ownership or responsibility by the Licensee for said Works.
4.  Author is deemed to have licensed the Works free of charge for the purposes of duplication, manufacture, distribution and representation to the Licensee and hereby releases the Licensee in perpetuity from paying any royalties, distribution fees, licensing fees, or wholesale costs for any submitted Works.
5.  Author grants Licensee right to use portions of the Works and the Author's likeness in the promotion of Journal.
6.  Author hereby releases the Licensee, its respective representatives, licensees, successors, and assigns from all actions, claims, contracts, damages, judgments and demands whatsoever, in law or in equity, which Author, its assigns, and successors may now, or hereafter, have against the Licensee with regard to the Works, excluding only the terms set forth in this Agreement.
7.  Author hereby agrees to defend, indemnify, and hold the Licensee and its representatives, licensee successors, and assigns harmless from and against any and all damages, costs, liabilities, losses and expenses (including reasonable attorney fees) arising out of or connected with any claim, demand or action by a third party which is inconsistent with any of the warranties, representations or covenants made by Author in the Agreement.
8.  Author represents that the Author is at least 18 years of age and is legally capable of entering into this Agreement.
LICENSEE
1.  The Licensee intends to publish, manufacture, and distribute Journal, which includes the Authors works, in whole or in part. This published material is to be distributed through any legal means by the Licensee in any and all countries the Licensee sees fit.
2. Licensee intends to maintain Journal in electronic format on private servers; however, as an collection of academic works, Journal may be entered into the University of Utah's Open Access Institutional Repository (IR) at the discretion of the managing authorities of that repository.
GENERAL AGREEMENT
1.  This Agreement constitutes the entire Agreement between the parties and shall be construed in accordance with the laws of the State of Utah.  Any dispute or disagreement with respect to this Agreement shall be submitted to arbitration where Utah Law is controlling.  This Agreement may not be modified except in writing signed by both parties.  A waiver off any breach by either party in any instance shall not constitute a waiver of any subsequent breach, whether or not similar. 
2.  The Author may, at any time, elect to dissolve this Agreement in whole through written correspondence.  At such time the Licensee will not include the Author's Works in any new editions of existing Journal or in or as part of any new Journal. 
3.  Correspondence and information exchange between the Author and Licensee will be acceptable through electronic means (i.e. email) so long as the exchange is documented and occurs between the Author and Licensee through agreed channels.
4.  This Non-Exclusive License Agreement for Graphic Authors is identical to all other Agreements made with other Authors for Non-Exclusive Use by the Licensee.
5.  All legal notice hereunder shall be in writing and delivered to: Phi Alpha Theta - Alpha Rho, Carolyn Tanner Irish Humanities Building, 215 S. Central Campus Dr. Room 310, Salt Lake City, UT 84112.
SUMMARY
Authors retain copyright but grant the journal right of first publication in all digital and print mediums.  The journal will not pay the author any fees or royalties as a part of this agreement.