The Playhouse at Shangri La: A Case Study in Re-integration Using an Alternative Material
Kent Severson

Conservator, Shangri La Museum of Islamic Art, Culture & Design in Honolulu, Hawai'i
Abstract
This presentation will explore the reintegration of the mosaic tile façade of the Playhouse (poolside guest house) at Shangri La, Doris Duke's Hawai`i home (now a center a center for the study of Islamic arts and cultures), using materials dramatically different from the original.  The original cut tile mosaics, commissioned in Iran in 1938, were executed using traditional materials and techniques, including a gypsum-rich mortar backing. The tiles were installed in 1940 atop a steep sea wall above constantly breaking surf and exposed to harsh sun and salt-laden wind.  By the late 1970's some sections of the decoration had deteriorated to the point of collapse. After numerous failed attempts at stabilization, the decision was made to de-install and replace approximately 30% of the tiles with a more durable facsimile. The decision-making process that led to the removal and replacement of this portion of the decoration was not taken lightly and was dominated by the structure's location above the rocky edge of the tropical Pacific Ocean. "In kind" replacement was explored and samples were procured from Iran, where cut tile mosaics are still manufactured; however, the results were not entirely satisfactory and it was feared that the same kind of deterioration would only happen again. The search for a suitable replacement material eventually led to the replication of the crisp, brilliant appearance of the original mosaic in glazed porcelain. Using a combination of careful measurements and high-resolution digital photography, a full-sized, distortion-free photographic image was generated. To avoid imposing a grid on the composition by printing on square stock porcelain, the full-sized image was separated into smaller individual shapes along the lines of the pattern and the stock tiles were cut using a water jet into unique, jigsaw puzzle-like pieces. The individual pieces were then digitally separated into color layers which could be used to generate masks and stencils for application of the custom formulated glazes. Each tile was fired individually for each for color, up to as many as six times. The resulting tiles effectively replicate the overall effect of the original cut tile mosaic at a short distance, but are easily distinguished from the original on close inspection, but in a material with a good track record in a harsh, sun-struck marine environment.
Click on Video link on the right to view presentation.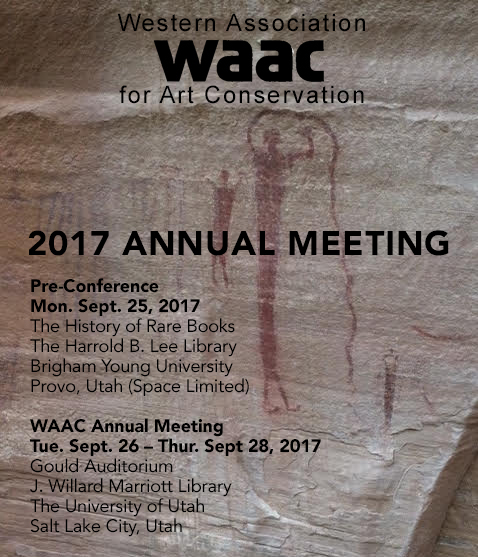 How to Cite
SEVERSON, Kent. The Playhouse at Shangri La: A Case Study in Re-integration Using an Alternative Material.
Selected Proceedings of Advances in Conservation
, [S.l.], nov. 2017. Available at: <
https://epubs.utah.edu/index.php/waac/article/view/4019
>. Date accessed: 26 sep. 2023.