Case Study: The Structural Conservation of a Painting Affected by Metal Soaps Formation
Jia-sun Tsang

Paintings Conservator, Smithsonian's Museum Conservation Institute
Abstract
Robbing Eagle's Nest was painted in 1856 by Robert S. Duncanson (1821-1872), an African-American painter. The painting is from the collection of National Museum of African American History and Culture (NMAAHC) acquired in 2009. This striking landscape, infused with dramatic imaginary scenery, has been attributed to Cincinnati, Ohio.
 
The canvas was severely distorted and had craquelure on the entire painting surface. Extensive translucent protrusions covered the entire painting and the tacking edges. These protrusions have a white transparent appearance and are sensitive to water and solvent. Non-destructive analysis was completed with XRF, XRF mapping, and minimum sampling of the protrusion was taken for FTIR and XRD analysis. Initial investigation indicated the zinc was isolated in the soap aggregates suggesting advanced migration of the zinc soap. A dry paint sample preparation method was developed to preserve the integrity of the soap within the paint cross-section with diamond paste polishing and no solvent or water was used in the polishing. The embedded samples were studied further with microscope and instrumental analysis with SEM, SEM-EDS mapping, SEM-CL and single point EDS. After a long and thorough study, the small white transparent bumps were identified and confirmed as zinc soap.
 
Since the zinc soap aggregates break off easily and are sensitive to water and solvents. Traditional methods of correcting the planar distortion involving heat, moisture, and pressure would destroy the zinc soap aggregates. In order to flatten this 150-year-old painting, the conservation team started to search for an alternative treatment without using heat, moisture, and pressure. An innovative metal stretcher system was designed to tighten the slacked painting and minimize the distortion. A new stretcher, TWP2 was invented. This stretcher is made of sturdy aluminum and the tension adjustment is achieved by moving the stretcher bars in each direction independently by turning thumbscrews positioned along the stretcher bars. This newly designed stretcher was fitted as an insert into the original Robbing the Eagle's Nest stretcher and the severe planar distortion of the canvas was corrected instantly. The finer prominent aged cracks are still visible as expected, however, the painting regains the aesthetic intent and without disrupting the integrity of the zinc soap. The painting is currently displayed at the Visual Art Gallery of the NMAAHC.
Click on Video link on the right to view presentation.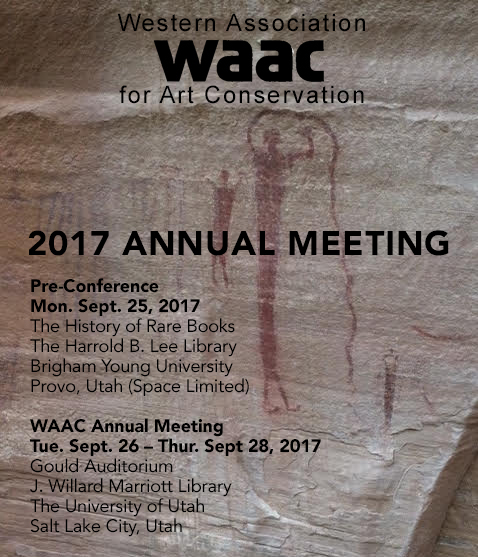 How to Cite
TSANG, Jia-sun. Case Study: The Structural Conservation of a Painting Affected by Metal Soaps Formation.
Selected Proceedings of Advances in Conservation
, [S.l.], nov. 2017. Available at: <
https://epubs.utah.edu/index.php/waac/article/view/4023
>. Date accessed: 07 june 2023.