Editor's Note
Abstract
The twenty-first edition of the Utah Foreign Language Review contains the proceedings of the Confutati conference hosted by the Department of Languages and Literature at the Univeristy of Utah in February 2014. The conference theme was "Passages, Protests, and Paradigm Shifts," and particpants presented research on a variety of cultural productions, including print, film, web series, and music—the mediums themselves illustrating how literary studies have changed and expanded over the years. Following the conference theme, the range of papers included analyisis of genre-bending works, highlights of historical changes in mindesets, examinations of protests and protest culture, and divergent explorations of canonical texts and authors. The selection of conference papers presented here represents scholarship on social, political, and cultural changes occurring around the globe—in literature and in life.             This issue of UFLR represents another change in the field, as this is the first time in the journal's twenty-year history that UFLR is presented strictly in electronic format. The descion was made to embrace the age of digital scholarship and cease to distribute print compies to authors, libraries, and subscribers—just as scholars and societies have embraced so many positive changes. You, reader, are still welome to print off the articles if you find the reading experience to be most pleasurable with the tactile sensation of paper on your fingertips. Thank you for taking the time to read this edition of UFLR; we hope you enjoy the essays and creative prose.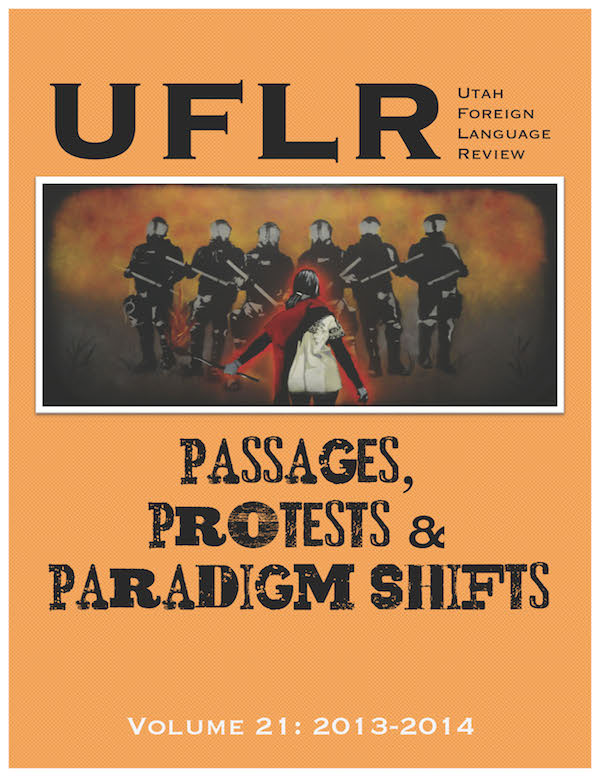 UFLR is released under a Creative Commons Attribution-NoDerivs 3.0 Unported License:
Attribution — You must attribute the work in the manner specified by the author or licensor (but not in any way that suggests that they endorse you or your use of the work).
No Derivative Works — You may not alter, transform, or build upon this work.
For more information on the Creative Commons Attribution-NoDerivs 3.0 Unported License, please visit: http://creativecommons.org/licenses/by-nd/3.0/
UFLR does not retain any copyright to the authors' original work. As per the Creative Commons Attribution-NoDerivs 3.0 Unported License, you may may use portions of the articles published herein with proper attribution as published in UFLR. As UFLR does not retain the copyright to the author's original work, anyone interested in republishing or altering the original work in any way must contact the author or indicated right holder directly for permission.