Antes que anochezca El idealizado norte nos despierta a una realidad infiel
Abstract
A través de su discurso visual de denuncia, la película Antes que anochezca1 filmada en el año 2000 y basada en la novela autobiográfica del cubano Reinaldo Arenas, ilustra la ardua lucha y el dilema de aquellos atrapados en sistemas sociales represivos. Estos sistemas forman parte del discurso poscolonial que se expone en el presente trabajo, considerando en forma más específica el tema de viaje y desplazamiento con sus acompañantes desafíos. El argumento propone demostrar que la migración a un país primermundista no garantiza la solución inmediata de los desafíos existentes en la vida anterior del sujeto exiliado, ni que su nuevo espacio no vaya a presentarle enfrentamientos similares. Se demostrará que la mayor oposición que enfrenta el sujeto, Arenas en este contexto, se encuentra en su propio enclave cubano y por parte de aquellos que profesan amistad leal en el extranjero. Por lo tanto, es imperativo que éste demuestre una concientización de su nueva posición para una mejor transculturación. Para apoyar el argumento, se realizará un análisis de la génesis y las dinámicas que llevan al sujeto a tomar la determinación de emigrar y convertirse en exiliado. Se incluirán las reflexiones de eminentes intelectuales posmodernistas y poscoloniales tocantes a las cuestiones relevantes al contexto, tal como poder y castigo de Michel Foucault; los desafíos que representan viaje, diáspora y desplazamiento de James Clifford y Caren Kaplan; el concepto de la zona liminal con un énfasis poscolonial de Edward Said, y la cultura intermedia a través de los estudios de Homi Bhabha.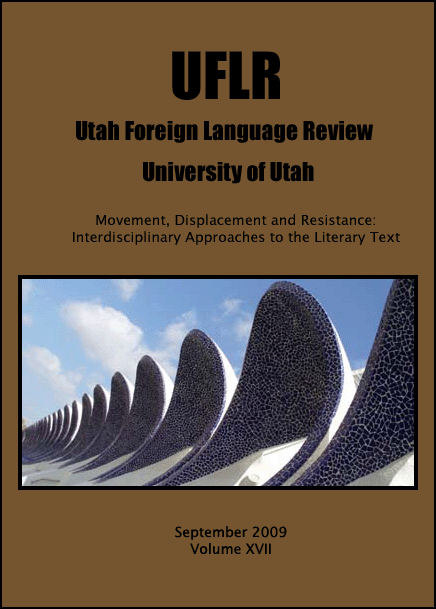 UFLR is released under a Creative Commons Attribution-NoDerivs 3.0 Unported License:
Attribution — You must attribute the work in the manner specified by the author or licensor (but not in any way that suggests that they endorse you or your use of the work).
No Derivative Works — You may not alter, transform, or build upon this work.
For more information on the Creative Commons Attribution-NoDerivs 3.0 Unported License, please visit: http://creativecommons.org/licenses/by-nd/3.0/
UFLR does not retain any copyright to the authors' original work. As per the Creative Commons Attribution-NoDerivs 3.0 Unported License, you may may use portions of the articles published herein with proper attribution as published in UFLR. As UFLR does not retain the copyright to the author's original work, anyone interested in republishing or altering the original work in any way must contact the author or indicated right holder directly for permission.