Dissecting la Rose: A look at the thorny view of courtly love presented in Guillaume's Romance of the Rose
Abstract
The Romance of the Rose of Guillaume de Lorris recounts the story of a dreamer who, wandering through a garden, encounters a rose and is overcome with desire for it. While it is undisputed that The Romance of the Rose is an allegory of love, the kind of love it portrays and the stance it takes on the matter continue to be passionately debated. Is The Romance an ideal depiction of "courtly love" where the rose is the woman admired, or is it an erotic tale of the conquest of desire with the rose symbolizing forbidden sexual aims? This paper conceptualizes The Romance of the Rose as the lover's quest to attain his erotic desire within the confines of a romantic system that prefers fin'amor to fol'amor. Romantic love and erotic desire are irreparably alienated from one another within medieval courtship and, here, Guillaume seems to use his allegory to elucidate the harms inflicted by this courtship system. Juxtaposing the woman Rose with the textual image of the rosebush, we see the violence incurred by this love object that has been both exalted into oblivion and objectified into bits. This paper traces the dissection of the rose image, reads the rose as a euphemism of sexual aims, and studies the God of Love as the personification of courtly love's enforcement. In the realm of The Romance of the Rose, to love is to suffer and both lover and loved are subjugated to violence.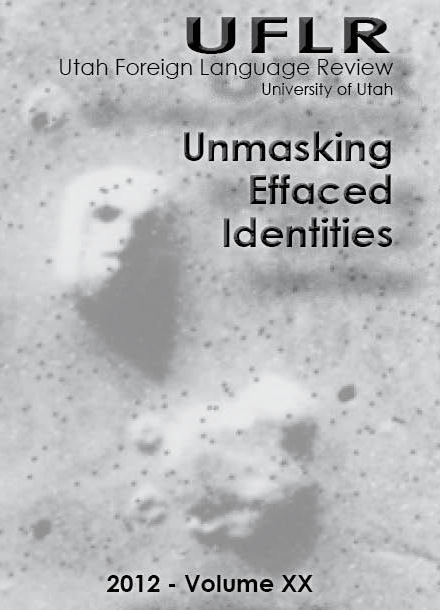 How to Cite
. Dissecting la Rose: A look at the thorny view of courtly love presented in Guillaume's Romance of the Rose.
Utah Foreign Language Review
, [S.l.], v. 20, dec. 2012. ISSN 2165-4905. Available at: <
https://epubs.utah.edu/index.php/uflr/article/view/750
>. Date accessed: 28 jan. 2023.
Keywords
courtly love, Guillaume, Romance of the Rose
UFLR is released under a Creative Commons Attribution-NoDerivs 3.0 Unported License:
Attribution — You must attribute the work in the manner specified by the author or licensor (but not in any way that suggests that they endorse you or your use of the work).
No Derivative Works — You may not alter, transform, or build upon this work.
For more information on the Creative Commons Attribution-NoDerivs 3.0 Unported License, please visit: http://creativecommons.org/licenses/by-nd/3.0/
UFLR does not retain any copyright to the authors' original work. As per the Creative Commons Attribution-NoDerivs 3.0 Unported License, you may may use portions of the articles published herein with proper attribution as published in UFLR. As UFLR does not retain the copyright to the author's original work, anyone interested in republishing or altering the original work in any way must contact the author or indicated right holder directly for permission.