Identidad "encuirada": Transgresiones identitarias y posicionamiento refractario en dos novelas judeo-argentinas
Abstract
    Usando como plataforma la noción de Amy Kaminsky de plantear el uso del verbo "encuirar" (no simplemente la palabra en inglés "queer") para desarticular la identidad fuera del marco heteronormativo de las sociedades hispanoamericanas, presento el estudio de dos novelas contemporáneas donde el proyecto de las autoras es desestabilizar las categorías de mujer, argentina y judía. Sin socavar la base intrínseca de género y sexualidad que contiene "encuirar", sino complementándolo a la idea de subversión de pautas fijadas, estas novelas proponen salirse de los márgenes donde se presenta un espacio limitado para la formación individual y utilizar tácticas que comprometan un proceso de tanteo que conduzca a un subterfugio productivo. La rompiente (1987) de Reina Roffé y La hija de Singer (2002) de María Inés Krimer utilizan estrategias similares en las cuales las narradoras se encierran en su mundo interior para (trans)formar sus identidades proscriptas por sociedades falogocéntricas en momentos socio-políticos claves en la Argentina: el terror de la Guerra Sucia de la dictadura de los años setenta y el consecuente exilio (La rompiente) y las políticas de neoliberalización sumadas a los ataques a la embajada de Israel y al centro comunitario judío más grande del país en los años noventa (La hija de Singer). Al proponer el "encuiramiento" de sus identidades fragmentadas las protagonistas logran sortear las normas preestablecidas y revelar una vía distinta por donde desenvolverse y transmitir su renovado autodescubrimiento.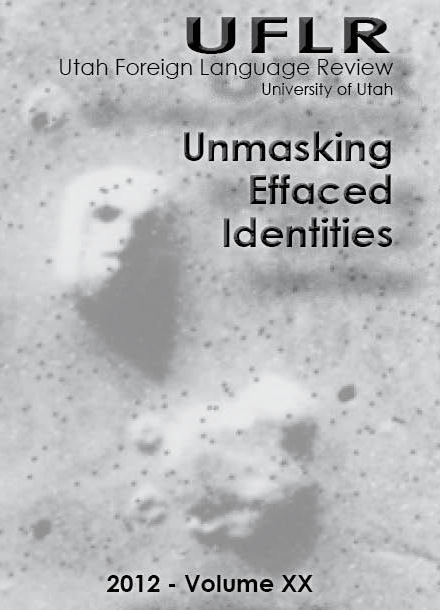 How to Cite
. Identidad "encuirada": Transgresiones identitarias y posicionamiento refractario en dos novelas judeo-argentinas.
Utah Foreign Language Review
, [S.l.], v. 20, jan. 2013. ISSN 2165-4905. Available at: <
https://epubs.utah.edu/index.php/uflr/article/view/757
>. Date accessed: 28 jan. 2023.
Keywords
identidad, "encuriamiento", Argentina, judaismo, escritura femenina
UFLR is released under a Creative Commons Attribution-NoDerivs 3.0 Unported License:
Attribution — You must attribute the work in the manner specified by the author or licensor (but not in any way that suggests that they endorse you or your use of the work).
No Derivative Works — You may not alter, transform, or build upon this work.
For more information on the Creative Commons Attribution-NoDerivs 3.0 Unported License, please visit: http://creativecommons.org/licenses/by-nd/3.0/
UFLR does not retain any copyright to the authors' original work. As per the Creative Commons Attribution-NoDerivs 3.0 Unported License, you may may use portions of the articles published herein with proper attribution as published in UFLR. As UFLR does not retain the copyright to the author's original work, anyone interested in republishing or altering the original work in any way must contact the author or indicated right holder directly for permission.